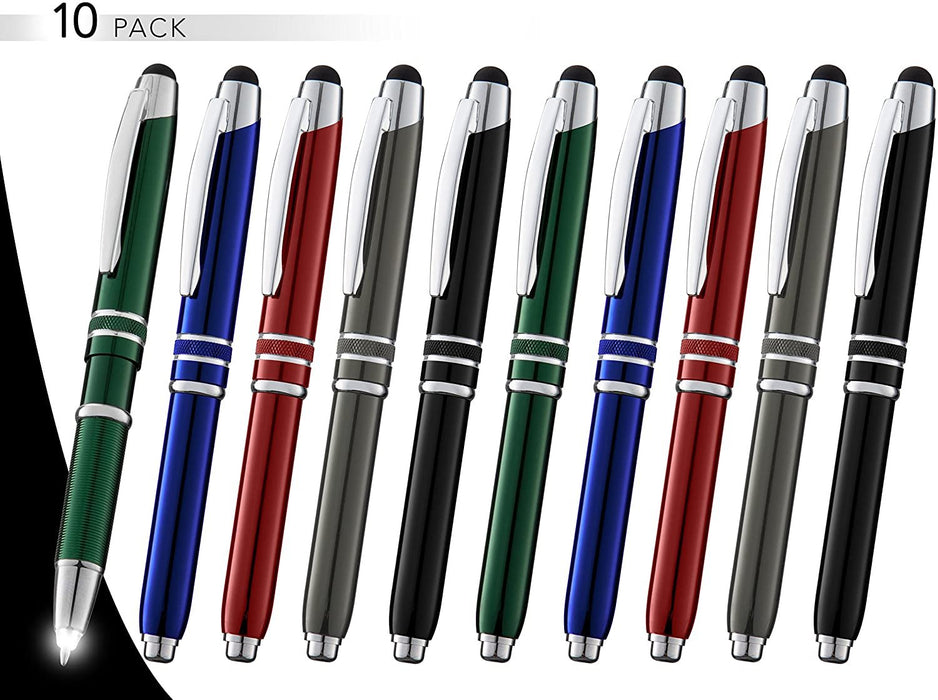 3-in-1 Multi-Function Metal Pen Stylus Capacitive Pen for Touchscreen Devices Tablets,iPads,iPhones,with LED Night Writer Dark Writing Flashlight,Ballpoint Pen (10 Pack,Red+Black+Blue+Green+Gunmetal)
SyPen BRINGS YOU THIS AMAZING 3-IN-1 MULTI-FUNCTION CAPACITIVE STYLUS BALLPOINT LED PEN THAT MAKES YOUR DAY-TO-DAY LIFE EASIER!No other pen on the market comes with as many advantages to its users as ours! This pen operates as a stylus pen for use on the surface of your touchable screen devices, it features an LED light on one end, and also functions as a real writing pen. Finding a pen with these 3-in-1 functions is very rare!OUR PEN IS CONVENIENT, HELPFUL & STYLISH ALL AT THE SAME TIME The removable cap functions as both a pen cover and a stylus for you to use on all your electronic devices that feature a capacitive screen display. Our stylus pen lets you easily glide across your device's screen, thus keeping your touch screen smudge-free at all times! This Metal pen also features a special LED light on the opposite end. Ever have that problem when you're going through your bag full of many items and you can't locate your car keys or home keys? Ever wish you had a little flashlight on you? Well if you carry around a SyPen pen, all you have to do is turn that pen to the opposite side, push the flashlight tip, and voila! A white LED light. This definitely simplifies your life by giving you a little light when you need it the most. The Flashlight runs on three replaceable button-cell batteries.For added convenience this pen also has a handy pocket clip function that allows you to keep it ready for use at all times. Clip it to your jacket pocket, your purse chain, and more. The ink from this pen is made of the highest quality and writes smoothly in a rich, black color.The pen has a sophisticated chrome accented look. Pen Features : • 3 in 1 Pen• Stylus Pen on One End • LED Flashlight on Opposite End • Ballpoint Pen • Metal Pen • Pocket Clip
3-IN-1 COMBINATION: SyPen offers our amazing stylus pen, which operates on smart devices, works as an LED flashlight, and also can be used as a standard ballpoint pen!
SHED SOME LIGHT: Always be prepared with our uniquely designed stylus pen, which includes an LED flashlight feature! Be ready at night and in dim situations! Simply push the flashlight tip to turn the small white LED light on and off.
MANY VARIATIONS: This special pen is available in the colors of Red, Gunmetal, Black, Green, and Blue. You can also choose from a pack of 5 pieces, and 10 pieces.
COMPATIBILITY AND PORTABLE: 100% Compatible with all Capactive touch screen devices (Apple iPad 1 and 2, iPhone, iPod, Kindle, Motorola Xoom Tablet, Galaxy, and Blackberry Playbook Virtuoso Touch) and small size clip which can easily be placed in your pocket, purse, or wherever you like! Keep it handy and never be without one!