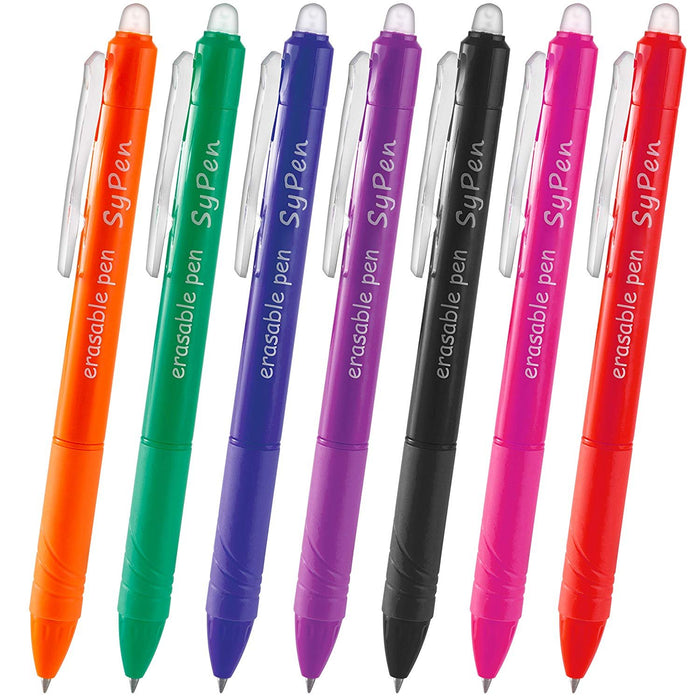 Erasable Gel Pens, Fine Point, Retractable Clicker Pens, Assorted Colors- 7 Pack
Never worry about writing mistakes because with Sypen's Erasable Pens you can effortlessly erase your pen marks. Say goodbye to pesky white out correction tape or that smelly white liquid! With these erasable pens you can quickly correct any errors on paper or documents.
Throw away your white out and enjoy the convenience of a pencil with the professionalism of a gel pen. Using the rubber eraser head you can effortlessly smooth away ink from paper.
BENEFITS AND FEATURES:
Erasable Ink Pens Retractable Click Pen 7 Pack Gel Ink Plastic Body Erases with Ease Refillable Writes Smooth Lines Fine Point Comfortable Rubber Cushion Grip Not Recommended For Use on Legal or Official Documents Eraser Heads
INCLUDED COLORS:
Dark Blue Light Blue Black Red Purple Pink Green
CLICK, WRITE AND ERASE!
Keep it neat! With these retractable pens you can keep any handwritten documents or papers looking professional and clean. There is no need to carry around hard to use correction tape or goopy correction fluid because these gel ink pens feature an erasable head that easily removes any typos or errors. Keep these convenient handy mechanical pens in your backpack, purse or briefcase. They're great for crossword puzzles or Sudoku.
STUDENTS WILL LOVE IT!
This is exactly what every student has been waiting for! Learning and education is easy when you can quickly remove any slip-ups. Keep your notes, exams and papers neat and organized. They're perfect for grade school and even college students.
Young children will find it easier to practice penmanship with a writing tool that allows them to easily remove mistakes. Now kids can hand in neatly written homework with confidence! Teachers and parents will also appreciate the freedom that these retractable pens provide. With 7 colors, they're great for drawing and art projects.
ERASABLE PEN: Writing mistakes are no problem with these erasable pens! A smooth gel ink provides legibility for anything your write or draw and you can erase without damaging papers, notes or important documents.
MULTIPURPOSE & CONVENIENT: No need to carry around obnoxious correction tape or liquid white out! These retractable pens are perfect for all of your writing needs and they're great for everyone from professionals to students.
7 VIVID COLORS: This set features seven assorted colors that are perfect for color coding and outlining. A smooth ink and strong colors provides perfectly visible lines. This pack includes black, blue, green, purple, orange, red and pink pens.
ORGANIZE AND DECORATE: Categorizing or decorating is simple and fun with these ink pens. Add colorful labels or add unique designs to DIY projects or arts and crafts. Create customized stationary, letters or cards for unique gifts.
GREAT FOR STUDENTS: Education comes easy when you have the ability to rewrite your mistakes. These pens are the perfect writing tools for the classroom and they're great for taking notes, taking tests, doodling and so much more!