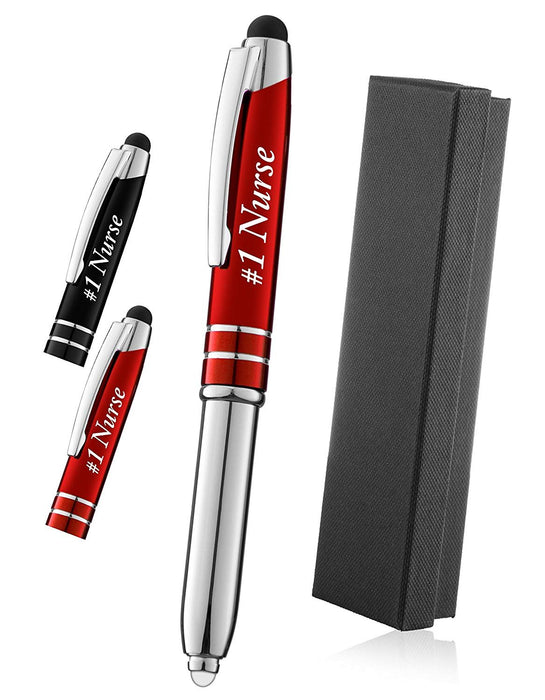 Gift for Nurses, Great Gift for the RN,Nurse Practitioner, Students, and Grads, Engraved"#1 Nurse" - 3-In-1 Metal Ballpoint Pen,Tablet and Phone Stylus, And LED Flashlight - Red
LET THE HARD WORKING NURSES OUT THERE KNOW THAT YOU APPRECIATE THEIR DEDICATED SERVICE TODAY WITH GIFT PEN/STYLUS/FLASHLIGHT TODAY!Nurses are essential to our everyday lives. They watch over us while in the emergency room, they aid the doctor while you are on the operating table, they keep your children calm while visiting the pediatrician or dentist's office, and a whole lot more.Nurses are always there giving their all each and every day. it's about time that they got some recognition! If you have been looking for the perfect gift a nurse can use every day, look no further than this pen!This 3-in-1 SyPen stylus pen is engraved with the words "#1 Nurse."OUR PEN IS CONVENIENT, HELPFUL & STYLISH ALL AT THE SAME TIMEThis pen comes with a free complimentary sleek matte black gift box so you do not have to worry about searching for a box to give your gift in. Choose between black & red.The removable cap functions as both a pen cover and a stylus for you to use on all your electronic devices that feature a capacitive touch screen display.This metal pen also features a special LED light on the opposite end that can be used in dark rooms and when searching through supply cabinets. The Flashlight runs on three replaceable button-cell batteries. This pen also has a handy pocket clip function that allows the nurse to keep it ready for use at all times. PEN FEATURES Ball Point Pen Stylus Pen Engraved With Message: "#1 Nurse" LED Flashlight Gift Box
ENGRAVED MESSAGE: With a special engraved inscription "#1 Nurse"- this is a wonderful gift for a nurse to show appreciation for their difficult job or for a special occasion.
3-IN-1 COMBINATION: Not just a ballpoint pen, this SyPen multifunctional product also includes a stylus pen for tablets, smart phones and other devices, and an LED flashlight!
CHOICE OF COLORS: This metal stylus and writing gift pen is available in both red and gunmetal black. These neutral colors are perfect anywhere - home, office, or hospital.
FREE GIFT BOX: Included is a complimentary gift box with your order. It is a sleek, matte black box that is firm and elegant. Nurses will love being presented with this gift!
EXTRA LIGHT: The top of this pen has a mini LED flashlight, which will come in handy for nurses to search supply cabinets or quickly check a patient's eyes, ears or throat.