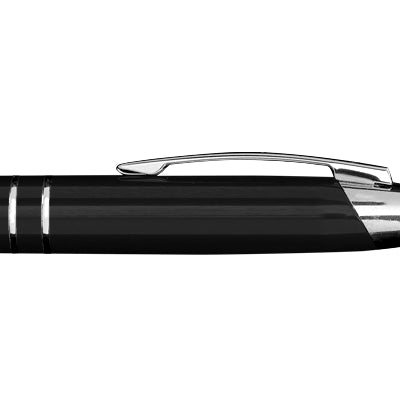 Custom Pen Stylus - Personalize and Customize Gifts and Branding with Free Laser Engraving - Multifunction Ballpoint Pen, Flashlight and Stylus for Tablets and Touchscreens – by SyPen
PERSONALIZE THEM JUST FOR YOU: Fully customize the pen to represent what you want – laser-engrave the name of your company, wedding couples, graduation class, or anything to capture the moment.

MULTIFUNCTIONAL TOOL FOR EVERYONE: This incredible pen functions as so many things that prove to be useful in various situations – jot down notes, use it as a flashlight, and navigate through your tablet.

A GIFT ANYONE WOULD APPRECIATE: Surprise a family member, friend, coworker, recent graduate, or anyone in your life with a custom, stylish pen that's engraved to show their accomplishments.

CONVENIENCE RIGHT IN YOUR POCKET: Bring it with you anywhere you go! A perfectly sized utensil that fits right in any pocket, backpack, purse with supreme ease so it's always handy when you need it most!

MULTIPLE COLORS: Choose your favorite color to fully express yourself through our pens! These amazing stylus pens are available in six different shades: black, blue, green, red, pink, and gunmetal.