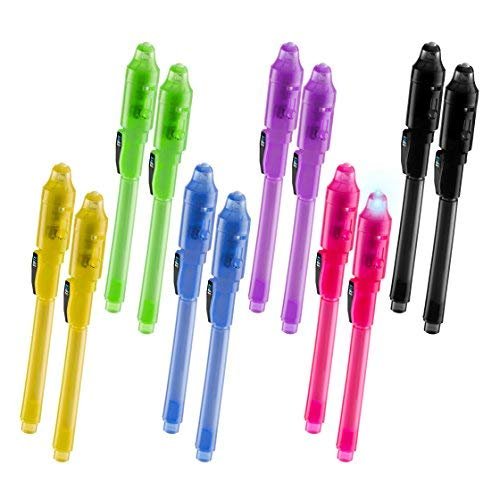 Invisible Disappearing Ink Pen Marker Secret spy Message Writer with uv Light Fun Activity for Kids Party Favors Ideas Gifts and Stock Stuffers, (12 Pack) by SyPen
SHOW YOUR CHILD,GRANDCHILD, STUDENT, NEIGHBORHOOD FRIEND, HOW MUCH YOU APPRECIATE THEM WITH OUR INVISIBLE INK SECRET MESSAGE WRITER SPY PENEveryone has somewhere in their life where they want to give a small token of affection for good behaviour,possitive reinforcment,party favors and for Happy Birthay stock stuffers to their child,grandchild or student. Why not make it something they can use and have fun and enjoy, to reminder them of how much you mean to them? This is why SyPen has created a special Spy pen with a built in UV light and amaze your child with secret messages Spy pen comes in a pack of 12 pcs with a variety of colors 2X Black, Yellow, Purple, and Blue. This pen makes a great gift for your Child, your Grandchild, your Students, your Neighbors, your little Brother and Sister, Birthdays, Surprise parties & more! OUR PEN IS FUN, EXCITING & GREAT ACTIVITY ALL AT THE SAME TIME The removable cap functions as both a pen/marker cover and a built in UV light for you to use to display and uncover the secret message written with the pen/marker. Our Spy pen lets you write any message you would like to come across during the activity and shine the light to surprise your peer! This sturdy, Spy pen also has a UV light on the opposite end. To operate it all you have to do is turn your pen to the opposite side, push the flashlight button, and voila! A blue color UV light will shine and reveal your message. The flashlight runs on three button-cell batteries.This pen also has a pocket clip function that allows you to keep it ready for use at all times. Clip it to your jacket pocket, your purse chain, and more. The ink from this pen/marker is made of the highest quality and writes smoothly. The pen has a sophisticated, child friendly exciting look. Pen Features : 2 in 1 PenMarker/ Pen on One End built in UV Flashlight on Opposite End Pocket Clip
WRITE YOUR SECRET MESSAGE: This magical invisible ink pen will write your secret message. Once your secret message is written with this invisible ink pen wait a few seconds shine the light from the cover of the pen and REVEAL MYSTERY OF THE SECRET MESSAGE.
EXCITING SPY ACTIVITIES FOR KIDS: Kids will love these spy pens. Kids love using this kind of pen to keep their secret and play detective spy games. Invisible pen brings you an amazing variety of fun activities. From Surprise birthday parties, to reviling a top secret message to their parents or grandparents.
GREAT GIFT FOR FUN PARTY FAVORS: This invisible Spy Pen comes in a pack of 12. Assorted colors to make the activity more exciting and fun. Parents can buy it for their kid's party at home. Schools, Teachers can buy it for students for a school Activity. Add it for any surprise gift bag or as Stock Stuffers.
PACKAGE INCLUDES: 12 2x per color invisible magic pens with built in UV lights. Batteries included and installed. Pens will come in a variety of colors to keep the activity exciting.
BUY WITH CONFIDENCE: We at SyPens consider our clients our utmost priority. We value your business and treasure all of your input. If for whatever reason you are not completely satisfied with our product, please contact a member of our customer care team and let us make it right. We aim to please.