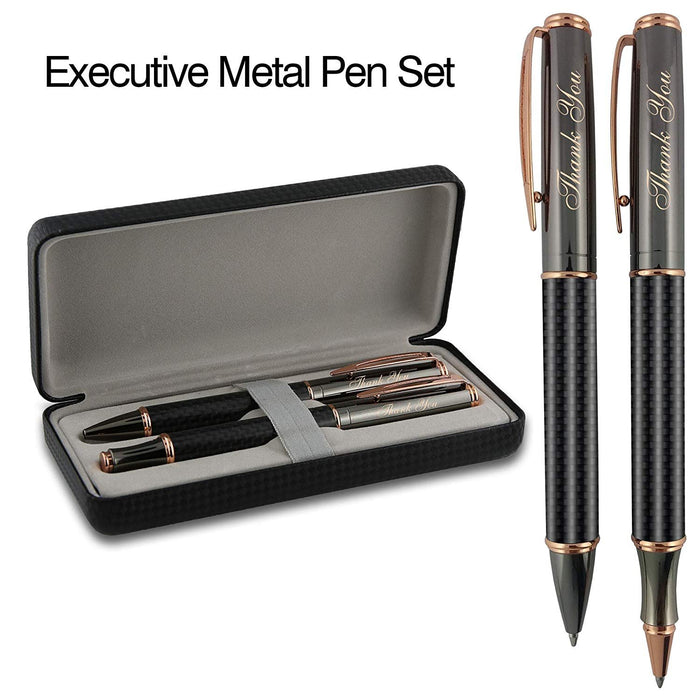 Personalized Gift Pen for Your Boss Coworker Wife Husband Dad Mom Doctor, Roller & Ballpoint Pen Gift Box Set - Twist Action Metal Rollerball - Gift Box Included - by SyPen
SHOW A SPECIAL PERSON IN YOUR LIFE HOW MUCH YOU APPRECIATE THEM WITH OUR PERSONALIZED THANK YOU SYPENEveryone has someone in their life that they want to give a small token of affection to. Why not make it something they can use every day as a consistent reminder of how much you mean to them? This is why SyPen has created a special, personalized Rollerball & Ballpoint Pen Set engraved with the words "Thank You". Packaged in an elegant gift box, this SyPen 2 Rollerball and Ballpoint Pen Gift Set is perfect for corporate gifts, or when you need something stylish and graceful to present to someone.
Product Features:
Set of 2 Pens Rollerball Pen with Removable Cap Ballpoint Pen Metal Pen Body Water-based Liquid Ink Carbon Fiber Barrel Black Ink Medium Point Chrome of Rose Gold Color Trim Elegant Gift Box
SLEEK DESIGN
These SyPen pens are built with black carbon fiber barrels and metal trims in a choice of chrome or rose gold for a sleek design with smooth writing.
Our ballpoint twist-action retractable metal pen has ink dispensed over a metal ball at its point for neat, clean writing with liquid ink. It combines the convenience of a standard ballpoint pen with a designer look.
Our rollerball pen employs smooth "wet ink" effect of a fountain pen with the convenience of a standard ballpoint pen and removable cap. Both pens write with medium point black liquid ink.
SyPen pens are crafted with customer satisfaction in mind. These do not bleed nor smudge; they provide a clean, crisp lines, curves, and scrawls.
VERSATILE AND MULTIPURPOSE
Elegant in appearance with practical functionality, this set of two pens with a sleek carrying case literally fits in anywhere, anytime. Sophisticated in appearance, this case is appropriate for professional settings such as the office or business meetings, yet also slim and compact enough to tuck away in a handbag or suitcase.
GREAT GIFT: These Elegant Rollerball & Ballpoint pens are engraved with the phrase "Thank you" & makes a great thank you gift for your Boss, your Coworkers, your Doctor, your Lawyer, your Accountant, your Teacher, your Mechanic, your Dentist, your neighbor and more!
WRITE ON: The Rollerball pen uses water-based liquid ink for smoother, more fluid writing with a lighter, thinner line, and has a comfortable grip.
QUALITY CRAFTSMANSHIP: The ballpoint pen is made of durable carbon fiber, and uses a twist action. It has an elegant metal pocket clip as well.
GIFT BOX: With a sophisticated look, the hinged box-set looks great with the pens fitted exactly in the pen gift box.
PREMIUM PRODUCT: Classy and comfortable, these pens are made from high quality materials, and are designed to write clearly and smoothly.