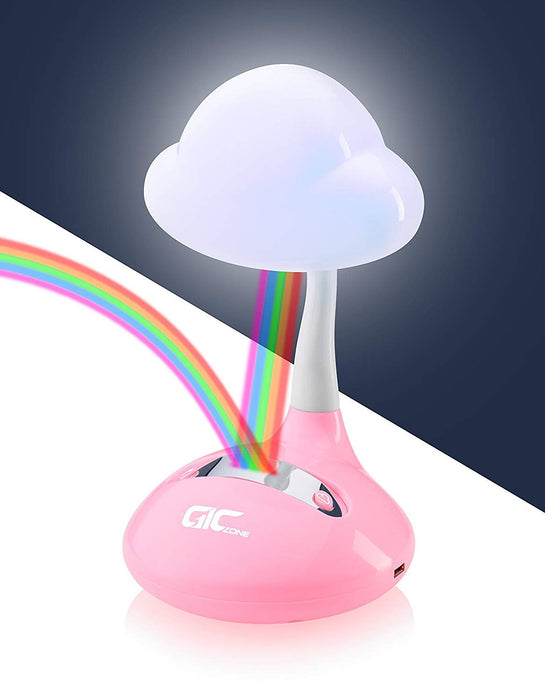 Rainbow Projector & Night Light - Multifunction Tabletop Multicolor LED Lamp for Kids Bedroom - Pink - by GicZone
With GicZone's Rainbow Projector Night Light you can light up your child's room with a cute and fun rainbow projection that will transform any room into a friendly and inviting space, and enjoy a night light that has just enough lighting to clearly see your surroundings without disrupting your child's sleep.
About This Product:
Battery Operated Night LightWorks with "ON" "Off" positions USB Port With USB Cable Night LightRainbow Projection Shuts Off After 20 Minutes
Available Colors:
- Blue- Pink- Yellow
This multifunctional night light is both entertaining and useful. Use it to:- Comfort your kids when they're afraid of the dark- See your surroundings at night when checking in on your baby- Allow your little one to easily locate his/her teddy bear (or comforter of choice) in the dark- Illuminate the changing table for midnight diaper changes
This night light serves multiple purposes. When you're trying to get around at night turning on your ceiling lights not only prevents you and your child from falling back asleep but it raises your energy bill. Keep our night light plugged in and avoid the high cost of turning on your ceiling lights when you're trying to get around your living space.
This bedroom accessory is not only functional but also a fun accent piece for a child's room.
This night light makes a great gift for parents to be or any child! Whether they're afraid of the dark or just want to add a little pizazz to their room decor it's sure to impress.Works in both "ON" "OFF" postions! Switch ON when using the battery, and switch OFF when using the cable.At GicZone our customers are important and we work hard to deliver quality products to you. We're sure you will be happy with your purchase. If for any reason you're not completely satisfied contact us so we can be of assistance.
MULTI USE: This item can be used to project a beautifully bright rainbow on your child's bedroom wall, and it has a gentle night light ,Perfect for kids of all ages.
COMFORTS YOUR CHILD: This adorable light is not harsh, and has just the right amount of light to allow kids to see their surroundings without having sleep disrupted.
SAFE DESIGN:Operates with "ON" and "OFF" positions! Switch ON when using with battery,and switch off when using with the UL adapter we provide and will automatically shut off after 20 minutes of use.
RAINBOW PROJECTION: The fun rainbow projection will transform your boy or girl's room into a friendly atmosphere with a beautiful display to enjoy before falling fast asleep.
AVAILABLE IN DIFFERENT COLORS: Coordinate with your decor by choosing from blue, pink or yellow and enjoy a personalized experience and suit your personality.