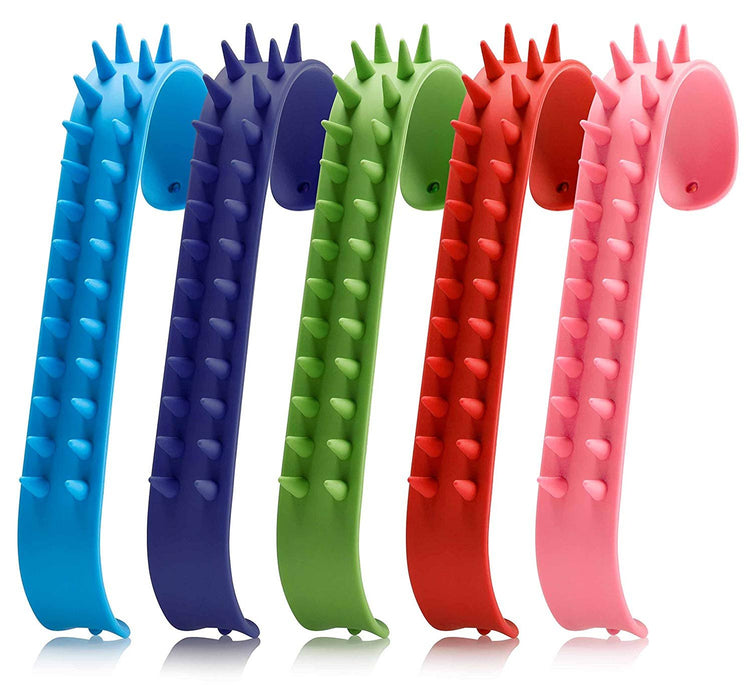 Sensory Fidget Toy Spike Bracelets - 5 Pack - Soft Silicone Spiky Stress Relief Snap Bands in Five Assorted Colors - by SyPen
Need to keep little hands and fingers occupied? Focus attention, relieve stress, and stimulate the senses with SyPen's Sensory Snap Band Spiky Bracelets Fidget Toys. When slapped onto a hard object, these bands roll into a circle that easily wears as a bracelet with soft silicone spikes on the surface. Besides being fun to play with, these fidget bracelets also serve a practical purpose. Children with anxiety can use them in anxiety-inducing situations, like waiting in line or before an exam at school, to calm themselves down. Kids with behavioral difficulties can be trained to slap on one of these bracelets instead whenever the urge to misbehave strike.
The smooth silicone band and spikes, bright colors, and slapping noise can stimulate those with autism and other sensory needs. They are a great tool for classroom teachers, occupational therapists, play therapists and parents alike. Integrate them into classroom or therapy routines or offer them as prizes for completing tasks. This five pack with assorted colors is perfect for kids to pick their favorite. They are also a great antidote for boredom; bring them on your next car trip to keep kids happy and content.
PRODUCT FEATURES:
Silicone Bracelets Ages 3+ BPA Phthalate and Latex Free Hypoallergenic Safe to Put in Mouth or Chew On One Size Fits Most 5 Pack
Colors:
- Dark Blue- Light Blue- Green- Pink- Red
PLAY IT SAFE
Here at SyPen, we care about you and your family. That's why we created our slap bracelets with non-toxic silicone that is free of BPA, phthalates and latex as well as hypoallergenic. Our one size fits most bands suit both children and adults. While other fidget toys can be easily misplaced, our slap bracelets conveniently snap onto the wrist so they are always at hand. These bracelets easily wipe clean and are dishwasher safe.
AUTISM BRACELET: While great for all kids and even adults, this calming tactile bracelet is the perfect toy for Autistic who are calmed using touch and other sensory tools. They'll love the rubber-like material.
PROVIDES SENSORY STIMULATION: Touching the smooth silicone band and pointy spikes, hearing it snap over the wrist, and seeing the bright colors make these bracelets great for kids who love fidgeting.
CALM KIDS' STRESS: By focusing attention on a specific tactile task, these slap bracelet can distract children from their anxiety. The choice of bright colors lets your child find one that they like find soothing.
SAFE FOR KIDS: Made with high quality food grade silicone rubber, our slap bracelets are hypoallergenic, nontoxic, and free of BPAs, phthalates and latex. They are durable and safe for kids and adults alike.
MULTI USE: Children can play with these at home or school. A bulk set, they can be used as rewards & incentives by teachers, or in party gift grab bags. The bands are dark and light blue, pink red and green.