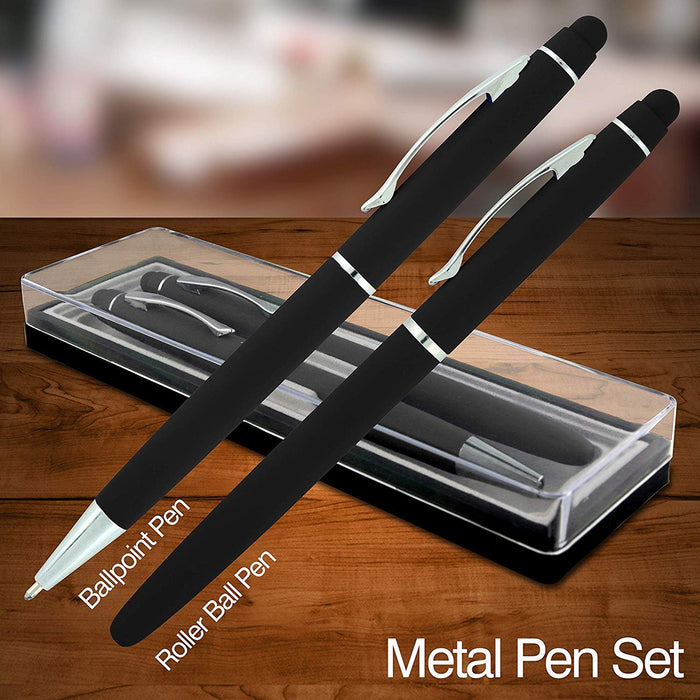 Soft Rubberized Roller & Ballpoint Pen with Stylus for Touchscreen Devices-Gift Box Set - Twist Action Metal Rollerball - Gift Box Included - by SyPen
Packaged in a custom molded gift box, this SyPen Rollerball and Ballpoint Pen+stylus Gift Set is perfect for corporate gifts, or when you need something stylish and graceful to present someone.
Product Features:
Set of 2 Pens 2 in 1 Rollerball Pen with Stylus tip2 in 1 Ballpoint Pen with Stylus tip Metal Pen BodyCompatibility With All Smart Devices Smooth rubberized BarrelBlue Barrel Black Ink Medium Point Gift Box
SLEEK DESIGN
These SyPen 2 in 1 pens are built with a smooth rubberized barrel that easily molds to the contours of your hand for a sleek design with smooth writing.
Our ballpoint twist-action retractable metal pen has ink dispensed over a metal ball at its point for neat, clean writing with liquid ink.
Our rollerball pen employs smooth "wet ink" effect of a fountain pen with the convenience of a standard ballpoint pen and removable cap. Both pens write with medium point black liquid ink.
The stylus from the pens glide smoothly across smartphone and tablet screens, which protects the screen from scratching or fingerprints, promoting the longevity of your devices. The 2 in 1 pen and stylus design gives you more bang for your buck, as it is multi-functional. You can use this pen for everything from jotting notes into a notebook to doodling on your tablet. This set is packaged in a smooth gift box for a professional presentation.
SyPen pens are crafted with customer satisfaction in mind. These do not bleed nor smudge; they provide a clean, crisp lines, curves, and scrawls.
VERSATILE AND MULTIPURPOSE
Sleek in appearance with practical functionality, this set of two pens with a case is slim and compact to tuck in anywhere. This set is appropriate for professional settings such as the office or business meetings.
Gender neutral, it is appropriate for men and women of all ages. Impress your clients, customers and coworkers with this custom 2 in 1 stylus pen set!
IT'S A PEN! FLIP AND IT'S A STYLUS Our stylus pens function as both a pen and a stylus so that you can use it on paper, tablets, & phones. Flip between a stylus and a pen for your convenience.
PREMIUM PRODUCT: Classy and comfortable, this set contains a Rollerball and a Ballpoint pen. They are made from high quality materials, and are designed to write clearly and smoothly.
CORPORATE GIFT: The beautiful Gift box makes this a classic business present for both formal and casual settings.
COMFORTABLE GRIP: Our pens feature a smooth rubber surface that contours to your hand for added comfort, making it the perfect choice for avid note takers.
ULTRA SENSITIVE TIP: Our stylus pen is the best stylus, durable conductive fiber/rubber hybrid tip, gliding across any touch screen highly sensitive & smooth, providing a seamless, pen-like writing experience. The fine tip allows you to achieve greater detail in your note taking & art projects.