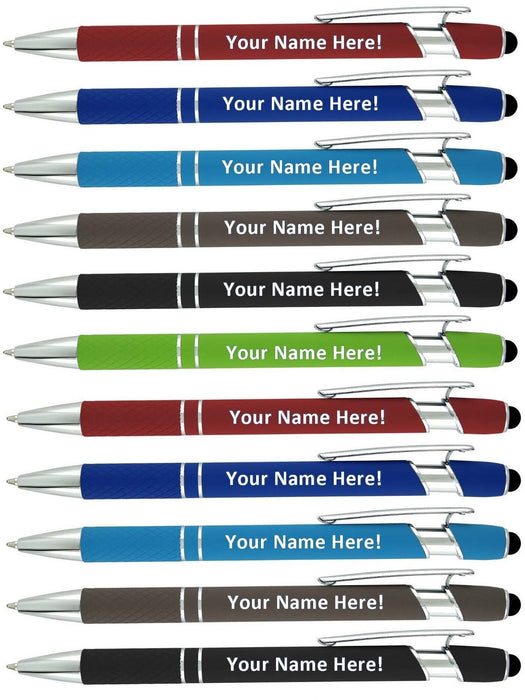 PERSONALIZED STYLUS PENS -85 PACK- CAPACTIVE STYLI PEN WITH BALLPOINT-SOFT RUBBERIZED PEN- SENSITIVE RUBBER TIP FOR YOUR PHONE- COMPATIBLE WITH MOST TOUCH SCREEN DEVICES-ENGRAVED WITH YOUR CUSTOM TEXT
SyPen's Customizable 2 in 1 Ballpoint & Stylus Pens are a versatile, trendy, stylish & multi-functional tool that will serve multiple purposes for home, school or the office! With free custom laser engraving you can make it your own. Add your very own text or logo. It's the perfect personalized gift for just about anyone - women, men and children. Stylus pens for touch screens are also a great promotional writing tool for your brand or business. FEATURES: 2 in 1 Ballpoint Pen/Stylus TipFree Custom Laser Engraving Compatibility With All Smart Devices Different Color Variations including Blue, Light Blue, Red, Green, Black, and Grey Rubberized Barrel Metal ExteriorSlim Pen with Clip to fit your cell or Tablet covers Highly Sensitive Glides Smoothly Provides Great Detail Black Ink Works on SmartPhones, Tablets, and PaperSyPen's 2 in 1 Ballpoint Pen & Stylus Pen for touch screen devices glides smoothly across smartphone and tablet screens, which protects the screen from scratching or fingerprints, promoting the longevity of your devices. The two in one ballpoint pen and stylus pen design gives you more bang for your buck, as it is truly multi-functional and will take you from home, to the classroom or office. You can use this pen for everything from jotting notes into a notebook to doodling on your tablet. The Slim design and comfortable rubber grip make this pen the perfect choice for Schools, students, offices, home, artists, avid notetakers, and anyone who writes for extended periods of time as it won't tire you out and molds to the contours of your hand. The highly sensitive tip provides great detail and accuracy and will enhance your experience with note taking, sketching, drawing, and photo apps. Our stylus/ballpoint pens provide all-in-one convenience with sleek sophistication & style that is sure to make an impression.
FREE PERSONALIZED ENGRAVING: Add a personal touch to these custom pens. Promote your business with a logo, brand name, website or phone number. They are awesome special event mementos or personalized gift pens.
CLICK! IT'S A PEN! FLIP! IT'S A STYLUS Our stylus pens have an interchangeable tip so that you can use it on paper, tablets, & phones. Flip between a stylus and ballpoint tip for your convenience. The smooth rubberized barrel provides an effortless grip.
DURABLE DESIGN: SyPen's 2 in 1 Stylus Gift Pen's are designed to stand the test of time. Our pens are constructed from a sturdy metal material that are more durable than competing brands.
ULTRA SENSITIVE TIP: Our stylus pen is the best stylus, durable conductive fiber/rubber hybrid tip, gliding across any touch screen highly sensitive & smooth, providing a seamless, pen-like writing experience. The fine tip allows you to achieve greater detail in your note taking & art projects.
WIDE COMPATIBLE WITH MANY DEVICES: SyPen's Stylus Tip Pen is compatible with touch screen devices from various brands for your convenience. Use them everywhere from your phone to your tablet with ease.