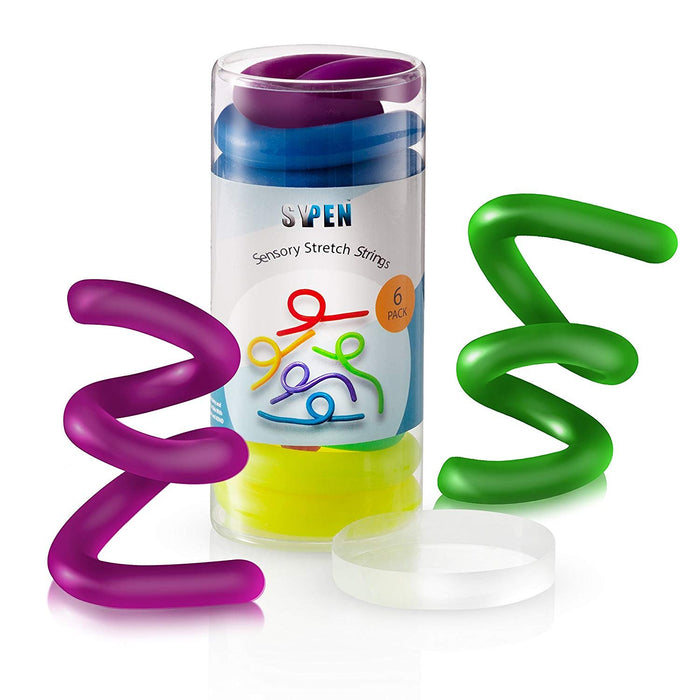 SyPen Sensory Stretchy String Fidget Toys - Stretchable and Flexible from 10 Inches to 8'- Anxiety and Stress Relief for Kids with Special Needs, Autism and ADHD (BPA/Phthalate/Latex-Free) 6 Pack
With SyPen's Sensory Stretchy String & Fidget Toys you can stretch, pull, twirl, wrap and squeeze away stress and anxiety. Promote a sense of calm and increase focus with these therapeutic toys that are especially great for children and adults with ADD/ADHD, OCD, autism or high anxiety levels.
About This Product:
- Sensory & Fidget Toys- Stretch, Pull, Twirl, Wrap & Squeeze- Therapeutic Resource- Great For Those With ADD/ADHD, OCD, Anxiety, Autism & Anxiety- Flexible & Durable Materials For Long-lasting Performance- Colors: Blue, Green, Orange, Yellow, Purple- 5 Pack- High Quality, Hypoallergenic & Non-Toxic Materials- 10 Inches, Stretches Up To 8 Feet- Suitable For Ages 3+
SyPen's Sensory String & Fidget Toys are made from high quality materials that you can trust. They're hypoallergenic, non-toxic, free of BPA's, phthalates and latex, making them safe for kids and adults. They are the perfect resource for teachers and therapists in a medical or educational setting.
Teachers who work with students with special needs will benefit from having these on hand to increase focus and create an increased sense of comfort and trust in the classroom amongst students who need the extra support. They are great for quiet fidgeting, developing fine motor skills and bilateral coordination skills. They also make great occupational therapy sensory tools for fidgeting and strengthening hands and fingers. They are available in a 6 pack containing various fun colors that are visually stimulating to add extra fun to the experience.
At SyPen we are committed to producing quality products that we know our customers will love. If for any reason you aren't completely satisfied with your purchase, please contact us so that we can be of assistance.
FUN SENSORY TOY STRINGS: All children (and adults too!) will love these stretchy strings, which can be pulled, twisted, and shaped, but will then quickly revert back to their original size and shape.
THERAPEUTIC TOOL: Promote a sense of calm and increase focus at school with these therapeutic toys that are especially great for autistic children and those with ADD, OCD, or high anxiety.
BPA, LATEX & PHTHALATE FREE: These flexy strings are safe for kids - even if put in their mouths. The 5 pack includes blue, green, orange, yellow and purple strings for hours of playtime fun.
FOR ALL KIDS: While helpful for special needs kids, they are fun for all boys & girls (adults too!). They stretch from 10 inches to 8 feet and bounce back to the original shape after being stretched.
A GREAT GIFT: These are the perfect present for anyone fidgeter! A value pack, they are great as party favors, birthday grab bags, stocking stuffers, and parent or teacher prizes and rewards.