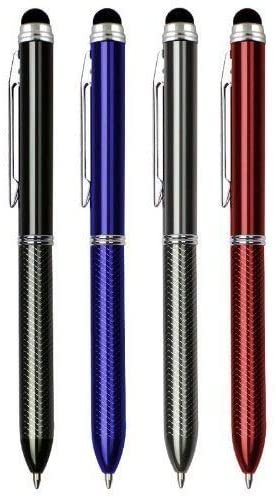 SyPen Stylus + Ballpoint Pen, 2-Color Ink(Black,Blue) Assorted Ink Ball Pens Multi-Color and Stylus for Universal Touchscreen Devices, Red,Gunmetal, Black, and Blue (4 Pack)
SyPen provides stylus pen working well for touching screens of digital products. It works smoothly and serves with durable quality. With stylus and ballpoint pen 2 in 1design,it's more practical and convenient for use .The benefit of using stylus pens is that it protects the screen from scratching or finger print and prevent your finger skin from becoming dry after a long period of using computers or phones. Product features 5 metallic colors(Red,Purple, Orange,Blue, and Black) with blue ink writing.
MULTIPLE COLOR WRITING: Our stylus tip pens have Two color Ink (black, blue ) convenience in one pen,Twist one way for blue ink. Then twist the other for black ink. Perfect for recording data in different colors.
• MANY DIFFERENT COLOR OPTIONS: Our stylus tip pens feature a sleek, sophisticated & streamlined design in many different Vibrent color variations to accommodate your personal taste and whatever mood you're in.
• COMFORTABLE FEATURE: Our stylus tip pens are short and made of a lightweight material and feature a TWIST ACTION mecenism that can easily control your writing color selection.
• SENSITIVE TIP: Our stylus pen is highly sensitive & smooth, providing a seamless, Durable soft head for protecting your screen against scratches and fingerprints.The fine tip allows you to achieve greater detail in your note taking & art projects.
• COMPATIBLE WITH MANY DEVICES: SyPen's Stylus Tip Pen is compatible with touch screen devices from various brands such as ipod, ipad, iphone or other Android Devices. Use them everywhere from your phone to your tablet with ease.