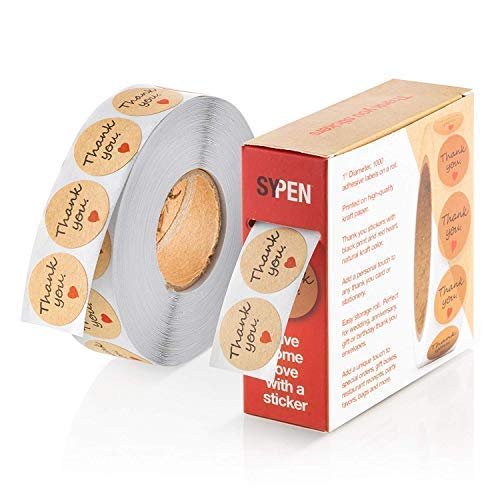 Thank You 1" Inch Roll Round Adhesive Sticker Labels with Red Love Hearts, Natural Paper Kraft, 1000 Stickers
WHEN YOU WRITE A LETTER TO SAY THANK YOU FOR A SPECIAL PERSON IN YOUR LIFE HOW MUCH YOU APPRECIATE THEM, SEAL YOUR ENVELOPE WITH OUR PERSONALIZED THANK YOU STICKEREveryone has someone in their life that they want to give a small token of affection or send a letter. Why not add a little sticker to it it? This is why SyPen has created a special, personalized sticker with the words "Thank You". Each Roll comes with 1000 Stickers.
1" Diameter, 1000 adhesive labels on a roll. Printed on high-quality natural paper.
Thank you stickers with black print and red heart, natural kraft color.
Add a personal touch to any thank you card or stationery. Easy storage roll.
Perfect for wedding, anniversary, gift or birthday thank you envelopes.
Add a unique touch to special orders, gift boxes, restaurant receipts, party favors, bags and more.