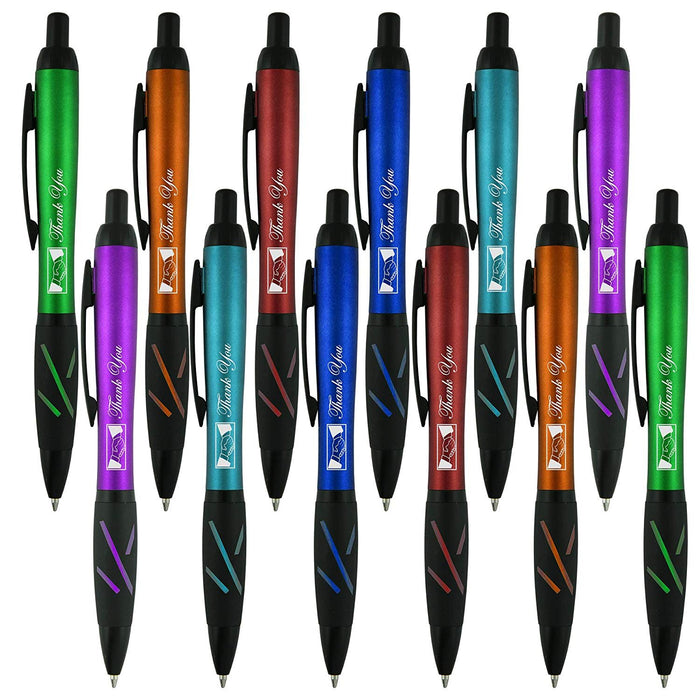 Thank You Gift Pen for Your Boss Coworker Wife Husband Dad Mom Doctor, 2 in1 Ballpoint Pen+LED Light up Flashlight, Multicolor 12 Pack
SHOW A SPECIAL PERSON IN YOUR LIFE HOW MUCH YOU APPRECIATE THEM WITH OUR PERSONALIZED THANK YOU LIGHT UP SYPENEveryone has someone in their life that they want to give a small token of affection to. Why not make it something they can use every day as a consistent reminder of how much you mean to them? This is why SyPen has created a special, personalized 2-in-1 ballpoint light up pen engraved with the words "Thank You". Each pack comes with 12 ballpoint pens with a variety of colors Red, Purple, Green, Blue, Light Blue and Orange. This pen makes a great gift for your boss, your teacher, your students, your doctor, your lawyer, your accountant, your brother, your sister, your mother, your father, your mechanic, your neighbor & more! OUR PEN IS CONVENIENT, USEFUL & STYLISH ALL AT THE SAME TIME This sturdy, metal pen also has an LED light on the center of of the barrel lighting up the words thank you. The rubber grip gets illuminated together with the message! The flashlight runs on three replaceable button-cell batteries.This pen also has a pocket clip function that allows you to keep it ready for use at all times. Clip it to your jacket pocket, your purse chain, and more. The ink from this pen is made of the highest quality and writes smoothly in a rich, black color. The pen has a sophisticated, chrome accented look. Pen Features : 2 in 1 Pen LED light up message light on center barrel Click Action Ballpoint Pen Metal Pen Engraved "Thank You" Message Pocket Clip
GREAT GIFT: This Ballpoint pen is engraved with the phrase "Thank you" & makes a great thank you gift for your Boss, your Coworkers, your Doctor, your Lawyer, your Accountant, your Teacher, your Mechanic, your Dentist, your neighbor and more!
LIGHT UP BARREL: With this unique 2-in-1 pen you will always be prepared to stick out a pen with a lit up "thank you" bonus LED flashlight feature! Light the message in dark or dimly lit environments!
DURABLE DESIGN: SyPen's 2 in 1 Gift Pen's are designed to stand the test of time. Our pens are constructed from a sturdy metal material that are more durable than competing brands.
MANY VARIATIONS: This multifunctional pen is available in a wide array of colors for you to choose from to suit your personal style including Red, purple, Black, Green, Blue Light blue and Orange.
Illuminated rubber grip provides a comfortable hold.