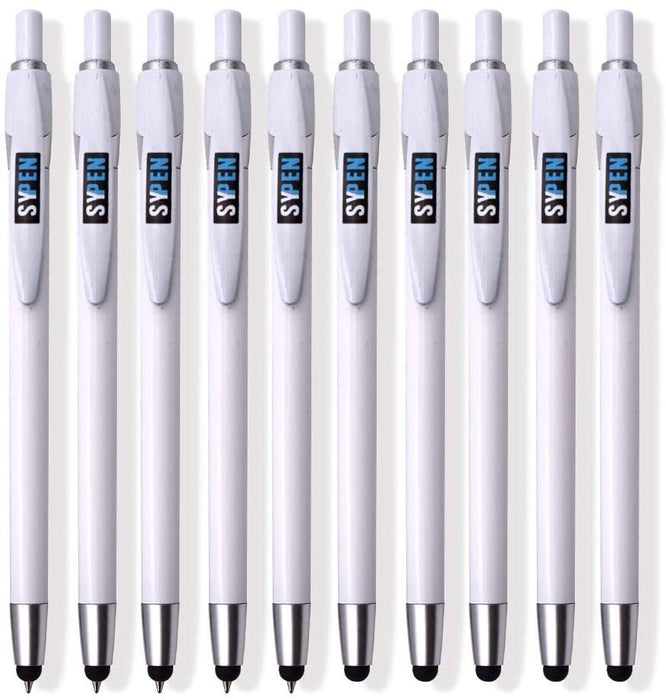 2 in 1 Stylus for Touch Screens Pens with Ballpoint Pens, White- Choose Pack Size
Sypen 2 in 1 Touch Screen Stylus & Ballpoint Pens
Enhance the experience of your favorite smart devices with the Sypen Intelligent Touchscreen Stylus and Ballpoint Pens
Combining modern aesthetics with functionality, our stylus features:
- A retractable ballpoint pen for day-to-day convenience
- A universal compatibility for all your smart devices of your favorite brands
- Ultra-sensitive tip for better responsiveness in your every move
- Highly durable barrel with plastic exterior that was designed to last
- Unparalleled value with 12 pieces per pack, in White
Precise & Smooth
The conductive fiber/rubber hybrid tip provides you with the smoothest browsing experience on any touch screen. Perfect for people with larger hands, long nails, or anyone who wishes to get more out of their favorite apps.
Truly Multifunctional
The fine ballpoint nib is equipped with black ink and can be used with a click of the top button. Discover a sleek solution for your office, school, work, university, home, art projects and take all the notes you need, in style.
Maintain Hygiene
Enjoy your favorite smart devices even more and prolong their longevity without having to constantly clean fingerprints, oily skin residue and with less bacteria remaining on your screen surfaces
The All-In-One Sophisticated Choice
Add both style and practicality that will make everyone take note- tap, glide, swipe, write, jot and sketch all with a single smartphone accessory.
With our stylus, you can maintain better hygiene, prolong your device's life and discover the smoothest user experience possible on all your devices at home
Get More Out of Each Device at Home Today with Sypen!
2 IN 1 INTELLIGENT DESIGN-Sypen brings you a smart, universal touchscreen stylus that incorporates a retractable ballpoint pen nib into its design for unmatched practicality. Switch between browsing your touch screen device and taking notes on paper-effortlessly.
TOP TIER PERFORMANCE- Our conductive stylus features a high-end, ultra-sensitive conductive fiber/ rubber tip that translates into a smooth, seamless browsing experience across all your touch screen devices.
UNIVERSALLY COMPATIBLE-Seamlessly swipe, tap, and glide on your iPad tablets, iPhones, Samsung Galaxy smartphones, as well as touchscreen-enabled laptops with zero guesswork or hassle
FINE NIB BALLPOINT PEN- Take notes at work, at school, at home, at university or anywhere you are without having to look for a pen. The fine pen nib that pushes through the rubber tip, delivers smooth writing performance with black ink for both writing and sketching.
SOPHISTICATED DESIGN IN WHITE-When combining a sleek color with modern aesthetics and functionality, you get the Sypen Stylus & Pen. Discover a value-packed set of 100 Stylus + Ballpoint Pens in a white barrel and make your daily work, you university days, or home entertainment a streamlined experience.